Our Ministry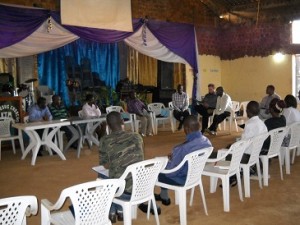 Training Pastors, Leaders, and Congregants 
One of our greatest missions is to teach Pastors how to be effective and Biblical in their presentation of Scripture, but word and by deed. This is to fulfill Ephesians 4:11-16 "And he gave the apostles, the prophets, the evangelists, the shepherds and teachers, to equip the saints for the work of ministry, for building up the body of Christ, until we all attain to the unity of the faith and of the knowledge of the Son of God, to mature manhood, to the measure of the stature of the fullness of Christ, so that we may no longer be children, tossed to and fro by the waves and carried about by every wind of doctrine, by human cunning, by craftiness in deceitful schemes. Rather, speaking the truth in love, we are to grow up in every way into him who is the head, into Christ, from whom the whole body, joined and held together by every joint with which it is equipped, when each part is working properly, makes the body grow so that it builds itself up in love."
We provide expository preaching to these leaders, as well as the congregation if we have the whole church, in many key areas to provide them with a stronger understanding of their foundation to move forward with. Oftentimes the leadership in the church is there without any kind of formal training or personal study. We offer them extensive teachings on crucial topics in order to give them new topics to preach from, as well as correct any theological areas they may have. Pastors often come to repentance when they are presented with the truth of Scripture, because so often they've been unknowingly infiltrated by false teachings. We teach the (at minimum) the following topics as led by God:
The Gospel: The fall of man, Holiness and judgment of God, Prophecy, The atonement of the cross, The new life in Christ, Eternal Security
How to preach the Gospel: Ten Commandments and the Law, Building relationships, Apologetics, Role-playing evangelism, Biblical presentation of the Cross
The Anointing: The purpose of the Anointing, The Anointing is for all people, Discernment, Spiritual gifts, Walking by faith, Understanding God's sovereignty
False Teachings: Apologetics, Primary and Secondary doctrines of Christianity, Warnings in Scripture, The prosperity gospel and it's teachers
Discipleship: The true cost of discipleship, Giving,
Who is God?: The attributes of God, The Father and the Gospel, The Son and the Gospel,  The Holy Spirit and the Gospel, The deity of Christ
Prayer: Worship, Intercession, Why we ask for forgiveness, Our certainty before God, Fearing the Lord in prayer
The goal is to give Leadership the tools necessary to lead their flocks. In some situations, we end up in churches where there is no Biblical leadership, and they do not respond to the message given to the church. In those situations we especially focus on the congregants, trying to snatch away as many for God as possible, as we are often not welcome back to those churches.